Register For Lessons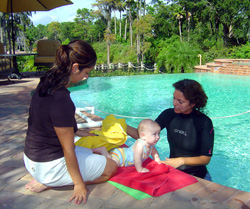 Thank you for inquiring about ISR lessons. We offer lessons year round, utilizing our saltwater pool that is perfectly balanced and set at an ideal temperature of 88 degress. Lessons are scheduled every ten minutes and students attend lessons five days a week.
Every lesson for every child is individualized, one-on-one. Our schedule fills very quickly and stays full. We will make every effort to accommodate your schedule. We are in the water most daylight hours so it may take us a day or so to get back to you. We appreciate your patience and look forward to speaking with you.
Here Is How To Enroll
Registration
All students must complete the registration process through the National ISR office prior to starting their first in-water lesson. Registration forms must be filled out and paid for online. The National Registration fee will cover the cost of a screening procedure to assess the physical and developmental readiness of your child, will be paid online via Pay Pal or credit card when you submit the National Registration form. Once you complete the registration the home office will contact us and send your child's information. You will then get a confirmation from for a lesson start date and time. Within a few days you will receive a package in the mail. It will include a t-shirt for your child, a swim diaper that you child will need to wear during lessons (if not yet toilet trained), a DVD to give you a greater understanding of the program, brochures to share with friends, a decal for your car and your copy of the Parent Resource Book.
Payment Policies
The weekly lesson fee is paid directly to your instructor. Weekly lesson payments are due on Monday of every week for that week of lessons. There is no pro-rated payment schedule. You are paying for your child's time slot.
Pool Location
Our pool is located West Orlando. Occasionally we will travel to private homes depending on the time of year and our availability.
For more information contact us today!