About ISR
Here is what your child can learn from an ISR accredited program…
Children 6-12 months: Rollback-to-float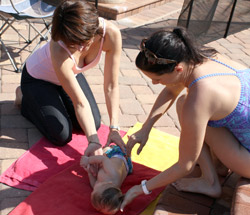 Babies 6 to 12 months old are very active and surprisingly quick! They learn quickly from their physical environment, which is how they learn to crawl and walk.
The Rollback-to-Float program honors this learning method and teaches breath control, correct floating posture and the skills to attain a back float and remain floating for varied periods of time.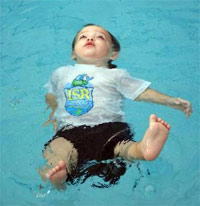 Children 12 months and older: Swim-Float-Swim
The Swim-Float-Swim program teaches the skills necessary for a child to reach the steps, edge of the pool or shore.
This process begins with teaching breath control and the skills to turn around in the water to secure the edge. Children learn correct swimming posture, movement through the water, the rollback-to-float as well as rotating to a face down position to continue to swim. This "swim-float-swim" sequence can be repeated until safety is reached.
All students eventually practice their skills wearing a diaper (if not toilet trained), clothing, and shoes because aquatic accidents can take place anywhere, anytime!
ISR's technique and goals are unique. All lessons are taught one-on-one and individualized for your child's needs. Each child is safely guided through the learning process, and no child is ever thrown in the pool.
Students attend lessons 5 days per week. The lessons are approximately 10 minutes per day as this provides for frequent practice and the reinforcement necessary to acquire the skills. A student learning a rollback-to-float will be in lessons for a period of 3 to 4 weeks. A student learning the swim-float-swim sequence will be lessons between 4 to 6 weeks.
Lesson Fees
National Registration Fee
The National Registration Fee is paid directly to ISR via credit card when you register online. The registration fee covers the cost of a screening procedure to ensure the safest possible lesson for your child. All information given is covered by HIPAA regulations. After National Registration is complete, you will receive a "welcome package" from ISR containing a Parent Resource Book, ISR demo DVD, ISR t-shirt, swim diaper if needed, and more.
Holding your time slot (New Students)
You must speak directly with your instructor in advance in order to hold your time.
Weekly Fee (New Students)
Payment is due weekly on Mondays. Typically it takes 4-6 weeks for a child to become skilled, however, ISR lessons are always tailored to each child's individual emotional and physical pace.
Weekly Fee (Returning Students)
Payment is due weekly on Mondays. ISR recommends Refresher lessons every 6-12 months depending on your child's age and skill level. A typical refresher lesson lasts 1-2 weeks. After 6 months you are required by ISR to update your child's information, by returning to the instructor registration link & using the update feature. (This will give you the chance to update any mailing address changes or child health changes.) REFRESHERS should be completed if it has been 6 months or longer since the child last registered for lessons.
Maintenance Lessons
These lessons are designed to correct any "bad habits" your child may develop in the water during playtime. A minimum of 4 lessons must be scheduled and paid in advance. Most maintenance lessons are scheduled once a week or twice every other week. Time slots are very limited – please speak to your instructor if you think your child could benefit from maintenance lessons.
Stroke Lessons
Available upon request to any child or adult. In order for a child to attend stroke lessons he or she must have already mastered the full ISR Sequence. To inquire about stroke lessons please .
ISR Non-Discrimination Policy
Infant Swimming Resource, LLC ("ISR") complies with all federal and state laws and regulations and does not unlawfully discriminate on the basis of race, color, national origin, gender, age, religion or disability. It is the policy of ISR to provide reasonable accommodations to its disabled applicants and students, with the provision of appropriate documentation of the need for the accommodation.
For more information contact us today!